Biography of Madja Boguchwal-Frymer:

Born: June 26, 1926. Lodz, Poland
Parents: Yankel and Doris (maiden name: Apkovitch). Mother died when Madja was nine.
Siblings: One older brother Leon, born in Lodz. (exact birth date unknown). Fled to Russia
during the war.
Family lived on Kilinskiego Street in Lodz pre-war. Madja attended public school until grade five.

as a small child, maybe five or six with
her two older cousins in Poland.


a teenager in Poland

April 1940: Age 14, placed in Lodz Ghetto. Lived on Wolbromska Street. Father Yankel taken
away from by the Germans. Madja lived alone. Worked in a German uniform factory, ironing.
Food was rationed. Lived in the ghetto until 1944. At age 18, tricked by the Germans into leaving
the ghetto with the promise of a better job and more food.
Unknowingly taken to Auschwitz. Separated by Mengele upon arrival. Hair was shaved off and
she wore the striped uniform of concentration camp prisoners. Spent two days in Auschwitz,
then sent to Waldeslust work camp in Germany. Worked in construction, building houses for
the Nazis. Spent approximately one year there.
April 1945: Force marched to Bergen Belsen Concentration Camp in Germany. Remained there
until liberation in May1945. Camp was liberated by British soldiers who served pea soup to the
starving survivors. Madja declined the soup. Many survivors died from eating the soup.
Life after the war:
Lived in British military housing for two months, before moving to Zaltzheim, a Jewish Community
in Frankfurt Germany.
Lived there until 1948. David Ben Gurion came to Zaltzheim to ask Jews to move to Palestine
to help build a Jewish state. The Jewish Agency moved them to France, where they were
smuggled out in trucks to waiting cargo ships. These ships carried coal, potatoes, livestock.
They spent five days on the Meditteranean Sea before arriving in the port of Haifa.
From there, taken to Hadera. Put up in barracks and given food rations.
Spent two months in Hadera.
Was then taken by the Jewish Agency and resettled in a home for girls in B'Nai Brak.
Worked in a knitting factory.
married to Mischa Frymer
Met husband Mischa again (they had previously met in Zaltzheim, Germany). Mischa had joined
the Israeli army. The two were married in 1950 in Holon. Lived in Israel for two years. Received
sponsorship to move to Canada in 1952.
Moved to Montreal. Mischa opened his own shoe business, Perfection Footwear in 1958.
Madja was a homemaker. Two children; Jack, born June 29, 1954. Doris, born December 24, 1957.
Four grandchildren: Jessica, 22 and Jeffery, 20 (Jack's children).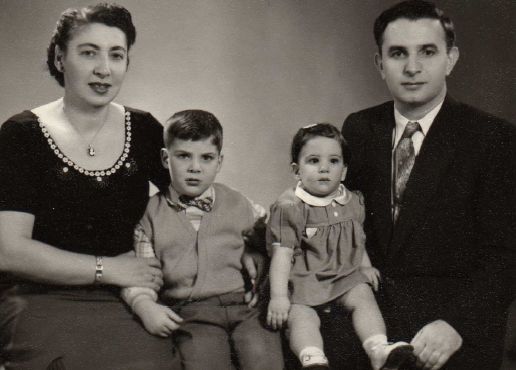 Madja with her husband Mischa and two children Doris and Jack
Ariel, 19, and Dalia, 15, (Doris's children). Miriam (she had changed her name upon arrival in Israel),
and Mischa lived in Montreal for 54 years. Moved to Toronto in June 2006.
See also: Reunion